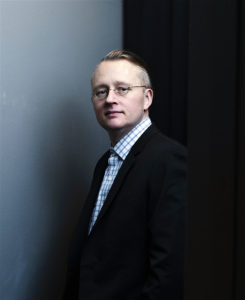 Roy Scranton is the author of I ♥ Oklahoma! (Soho Press, 2019), Total Mobilization: World War II and American Literature (University of Chicago Press, 2019), We're Doomed. Now What? (Soho Press, 2018), War Porn (Soho Press, 2016), and Learning to Die in the Anthropocene: Reflections on the End of a Civilization (City Lights, 2015). He has written for the New York Times, Rolling Stone, The Nation, the New Republic, The Baffler, Yale Review, Emergence, Boston Review, and elsewhere, and he co-edited What Future: The Year's Best Ideas to Reclaim, Reanimate & Reinvent Our Future (Unnamed Press, 2017) and Fire and Forget: Short Stories from the Long War (Da Capo, 2013).
Roy grew up in a working-class family in Oregon, dropped out of college after his freshman year, and spent his early twenties wandering the American West. In 2002, he enlisted in the US Army and served four years, including a fourteen-month deployment to Iraq. After leaving the Army at the rank of sergeant, he completed his bachelor's degree and earned a master's degree at the New School for Social Research, then earned a PhD in English at Princeton.
His essay "Learning How to Die in the Anthropocene" was selected for the 2015 Best American Science and Nature Writing, he was a post-doctoral research fellow at the Center for Energy and Environmental Research in the Human Sciences at Rice University, and he has been awarded a Whiting Fellowship in the Humanities, as well as a Lannan Literary Fellowship for Fiction.
Dr. Scranton is an Associate Professor of English at the University of Notre Dame, where he teaches creative writing and environmental humanities, and serves as director of the Notre Dame Environmental Humanities Initiative.
SELECTED PRESS AND INTERVIEWS
Interview with Amy Brady, Artists & Climate Change (March 8, 2022)
Interview with Cameron Steele, Public Intellectual (September 13, 2021)
Interview, Last Born in the Wilderness (April 1, 2021)
Interview with Brainard Cary, WYBC Yale Radio (August 15, 2019)
Interview with Peter Molin, The Wrath-Bearing Tree (August 5, 2019)
Steve Paulson, "Can We Have Hope If The World Is 'Doomed'?" Wisconsin Public Radio (May 4, 2019)
Michael Berry, "Roy Scranton Calls for Acceptance of a Future Defined by Climate Change," Sierra Magazine (July 18, 2018)
Jason Kelly, "Can Nothing Save Us?" Notre Dame Magazine (Spring 2017)
Interview with Sarah Hoenicke, The Montreal Review (October 2016)
Sarah Hoenicke, "When the Hurlyburly's Done," Los Angeles Review of Books (August 16, 2016)
Tom Peter, "Finally, A Realistic War Novel," The New Republic (August 2, 2016)
Sam Sacks, "Inverting the War Novel," Wall Street Journal (July 29, 2016)
Sam Sacks, "First Person Shooters," Harpers (August, 2015)