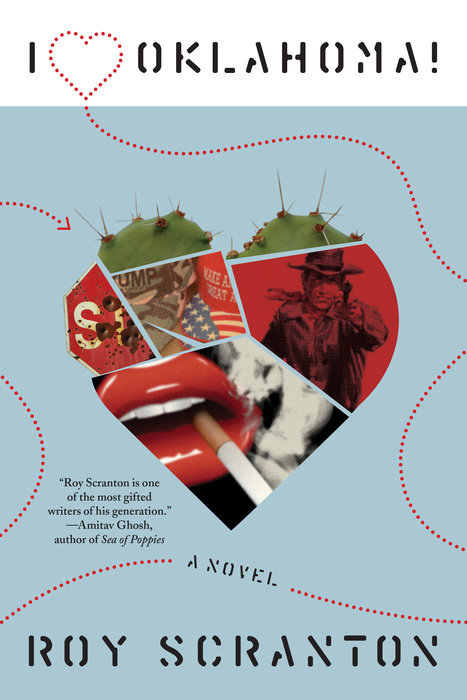 A formally daring road trip into the heart of America.
Suzie's seen it all, but now she's looking for something she lost: a sense of the future. So when the chance comes to work with a maverick video artist on his road movie about Donald Trump's America, she's pretty sure it's a bad idea but she signs up anyway, hoping for an outside shot at starting over.
A provocative, genderqueer, shapeshifting musical romp through the brain-eating nightmare of contemporary America, I Heart Oklahoma! is a book about art, guns, cars, American landscapes, and American history. This kaleidoscopic novel moves from our bleeding-edge present to a furious Faulknerian retelling of the Charlie Starkweather killings in the 1950s, capturing in its fragmented, mesmerizing form the violence at the heart of the American dream.
Praise for I ❤ Oklahoma!
"Simultaneously high flown and earthy, like a Platonic dialogue as written by Quentin Tarantino . . . this novel has big ambitions, a whipsawing imaginative energy, and, at its heart, the urgency and earnestness of a jeremiad."
—Kirkus Reviews 
"Scranton loops and wheels through states of varying lucidity, sometimes employing a stream-of-consciousness prose style and sometimes more straightforward storytelling . . . This novel of sex, violence, apathy, despair and art offers a bizarre, lightning-paced excursion through the present. For those readers on board with its wild, winding style, I ❤ Oklahoma! incisively parodies a weird time to be alive."
—Shelf Awareness 
"Language bops, pops, hisses, and yowls throughout this marvel of a novel, evoking the sounds and rhythms of regional dialects, Beat poetry, and art rock. At base, this is a story about a cross-country road trip in the age of MAGA. But Scranton explodes the traditional journey narrative with daring inventiveness and an unflinching look at the bloody violence that has always pumped through the heart of America."
—LitHub
"Part existential farce, part metatextual dystopian road trip romp, I ❤ Oklahoma! is ambitious, omnivorous, inventive, and imbued with a dark and hilarious sense of whimsy. If your personal journey through the American wasteland has begun to feel like a slog, this book will remind you that there's a certain thrill in watching the show unfold from the first-row seats, the ones in the splash zone."
—Alexandra Kleeman, author of You Too Can Have a Body Like Mine
"With whip-smart, multivalent prose akin to Barry Hannah spliced with William Burroughs, I ❤ Oklahoma! reads like a hypermodern Heart of Darkness, aimed straight into the malefic gnarl of Trump's MAGA. The result is an epochal, brainbending prism of a road novel, catalyzing any branded icon that might crop up into its wake—from Deleuze to Taylor Swift, Beuys to Bonnie and Clyde, ISIS to TMZ—into an immaculate reflection of a nation mesmerized by its own free fall through oblivion."
—Blake Butler, author of Three Hundred Million
"Roy Scranton's fiction has a shattering and deranged vitality. It breaks into your mind and hangs on. I ❤ Oklahoma! reads like a fever dream—cacophonous road-tripping anti-manifesto gives way to lavish degenerate theatre gives way to bloody killing spree. In this eventful novel, the precipitating event is always and ever language—transgressive, rhizomatic, and infinitely mutable."
—Noy Holland, author of I Was Trying to Describe What It Feels Like
"There is something dangerous and dizzying about Scranton's writing, a violence of ideas. In I ❤ Oklahoma!, he turns his intellectual weapons on an elusive and necessary subject—the mystery that is America, and the extent to which even those people marinated fully in the mythology of this country can find themselves at a loss to understand it."
—Omar El Akkad, author of American War
"I ❤ Oklahoma! invents new forms to capture the psychotic break that is present-day America. It's simultaneously a deconstructed road novel, pop culture avalanche, and historical serial killer story—a book about how the country's rotted myths have come home to roost. Boasting gleaming intelligence and batshit abandon, this is vital, unsettling, and urgent work."
—Jeff Jackson, author of Destroy All Monsters